Upload New Resources
You must Login to Add Content. This Pending Publication Folder is for placement of content by portal members to be reviewed and published. When you upload your content, if you want your content to show up in a specific resource area you must select a Tag (by selecting the 'Land Use' Tag, the content will flow into the Land Use Collection). If you don't see a Resource Area that meets your needs contact the portal administrator.
The Species Threat Abatement and Restoration (STAR) metric documents the contribution of specific conservation and restoration actions in specific places by businesses, governments, civil society, and other actors towards global goals for halting extinctions. As such STAR helps identify actions that have the potential to bring benefits for threatened species, and it supports the establishment of science-based targets for species biodiversity.
In response to TRBN collective priorities and partner input, the Tennessee River Basin Network announces the availability of financial and technical assistance for watershed and community organizations across the Tennessee River Basin within the state of Tennessee to implement a Shade Your Stream project.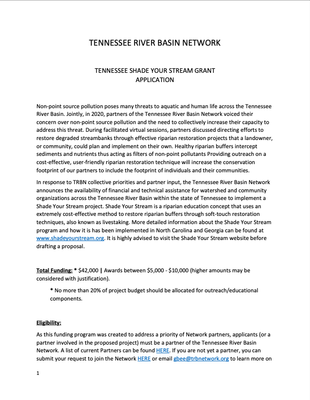 Download File:

2021TRBN_SYS_RFP.pdf — PDF document, 144 kB (147,514 bytes)