How To Use The LP Expertise Search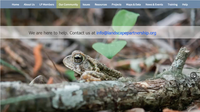 This video will introduce you to the Landscape Partnership Expertise Directory. The Expertise Directory is a searchable database that simplifies the process of identifying collaborators for research, funding, and projects. It provides users with access to nonprofit leaders, scientists, academics, conservation agency staff, farmers, and landowners. In this tutorial, you will learn how to: create your profile to showcase your own expertise, use the Profile and Map Search to find contacts for your projects, and export a spreadsheet of your search results.
Here in the Expertise Directory, you will find a diverse range of people who are interested in participating in landscape conservation efforts throughout  the United States.