USFWS Partners Program Celebrates Landowner's Conservation Success
Farms provide a buffer between urban areas and also habitat for wildlife identified in the county's Multiple Species Conservation Plan. The program compensates landowners for placing an easement on their property to conserve these areas.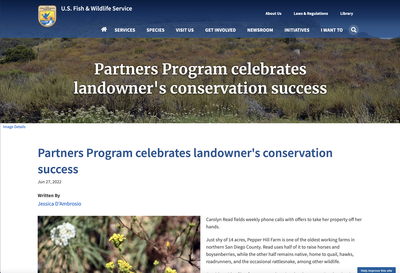 Carolyn Read fields weekly phone calls with offers to take her property off her hands.
Just shy of 14 acres, Pepper Hill Farm is one of the oldest working farms in northern San Diego County. Read uses half of it to raise horses and boysenberries, while the other half remains native, home to quail, hawks, roadrunners, and the occasional rattlesnake, among other wildlife.
On either side of her farm are new housing developments. Read maintains the original house built on the property in 1882, one of the first homesteads in the San Marcos area.  
She has chosen to not relocate her historic home as former neighbors have, or to sell off the land for expansion. It's important to her to preserve the past and connect her property's agricultural, natural and historical heritage to the future.
Read works hard to manage her farm, and met Jonathan Snapp-Cook, Carlsbad Fish and Wildlife Office biologist, in 2012 while embarking on a restoration project. Through the U.S. Fish and Wildlife Service's Partners for Fish and Wildlife program, Snapp-Cook was able to provide funding, technical expertise and good old-fashioned elbow grease to help replace invasive plants with native coastal sage scrub.