USDA Seeks Innovative Partner-led Projects Delivering Sustainable Agricultural Solutions
WASHINGTON, March 16, 2021 – The U.S. Department of Agriculture (USDA) is seeking proposals to fund up to $75 million in new, unique projects under the Regional Conservation Partnership Program's (RCPP) Alternative Funding Arrangements (AFA) that take innovative and non-traditional approaches to conservation solutions at the local, regional and landscape scales. In making selections. USDA's Natural Resources Conservation Service (NRCS) will prioritize projects related to climate smart agriculture and forestry.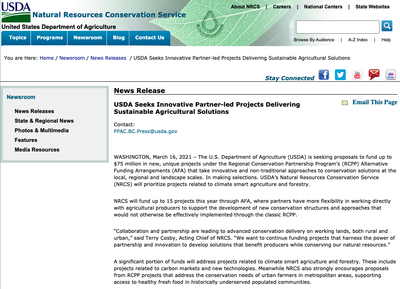 NRCS will fund up to 15 projects this year through AFA, where partners have more flexibility in working directly with agricultural producers to support the development of new conservation structures and approaches that would not otherwise be effectively implemented through the classic RCPP.
"Collaboration and partnership are leading to advanced conservation delivery on working lands, both rural and urban," said Terry Cosby, Acting Chief of NRCS. "We want to continue funding projects that harness the power of partnership and innovation to develop solutions that benefit producers while conserving our natural resources."