The Nature Conservancy Releases Country-Level Temperature and Precipitation Data for Climate Resilience and Adaptation Planning
The Nature Conservancy has released a new country-level dataset for its online Climate Wizard mapping tool that enables users to visualize future climate conditions using the most recent modeled data from the Intergovernmental Panel on Climate Change (IPCC).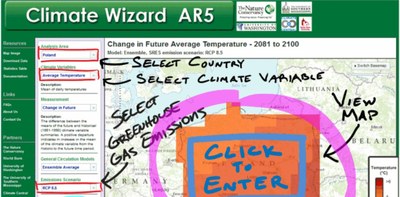 Data from 25 countries is now accessible via a Web portal:http://cop19.climatewizard.org. Users can select a country and view a color-coded map showing projected temperature and rainfall within that country during the period 2081 to 2100, depending on the trajectory of greenhouse gas emissions (low or high future emissions scenario).
The Nature Conservancy and partners developed the Climate Wizard in 2009 to provide future climate projection information via a free, user-friendly web site that helps users analyze how climate change is expected to play out in specific places around the world. Presenting data in 50 kilometer pixels, the tool provides a vast amount of information on one screen that can help to guide climate resilience and adaptation planning by governments, communities and regions. So far, the site has more than 87,000 unique visits in which maps and data have been viewed for almost every country in the world.
"With world governments gathering in Warsaw, Poland for the United Nations COP19 climate talks this week, Climate Wizard can put important climate data in the hands of people who are making crucial decisions today," said Evan Girvetz, PhD, The Nature Conservancy's senior climate scientist. "Allowing governments and communities to understand how climate change may play out in their territories can empower them to take sound steps to manage the risks they face."
"We know unequivocally that climate change is occurring and will greatly impact people— now the question becomes: 'What can we do to prepare for it?'" he said. "Where should we be investing our money in climate adaptation? What types of adaptation should our efforts target? Is it flooding risks or water supply constraints? Is it the threat of fire or landslides we need to be concerned about? It may be multiple things in different places within a country," says Girvetz.
For example, looking at the data for the COP 19 host country, Poland, the Climate Wizard maps indicate that conditions are projected to get hotter there and wetter, especially in the northern part of the country by the end of the century. For some locations, the future norm will be like wet years that only occurred once every five years in the past. Some models even indicate that the future average year could receive more precipitation than ever fell in a single year in the past. This could result in a higher overall risk for flooding, for which communities would need to prepare. 

The Nature Conservancy also recently worked in partnership with the World Bank to create a Climate Wizard "app" http://climateknowledgeportal.climatewizard.org/with 22 climate variables that can provide future climate information relevant to specific types of impacts, such as soil moisture, "maximum 5-day precipitation total each year" and "largest number of consecutive dry days per year." This application of the tool has been used to prepare and analyze detailed profiles of how specific landscapes and regions, such as the countries of Kenya and Nicaragua, or river basins, like the Eastern Nile Basin, are expected to be impacted by higher levels of carbon pollution.
The Climate Wizard country-level analysis – using the same climate models incorporated in the IPCC's Fifth Assessment Report (AR5) – shows that some nations and regions are projected to show greater impacts from heat-trapping greenhouse gas emissions than others.
Among the Climate Wizard findings:
For portions of the following countries, Climate Wizard indicates much heavier rainfall patterns in the future, so much so that "wet years," that would have happened only every 5 or 10 years in the past, are projected to become the norm, or the average annual rainfall: China, India, Indonesia, Kenya, Papua New Guinea, Peru, Russia, United Kingdom.
There is 100 percent agreement among all of the Wizard climate models that China will see increasing precipitation by the end of the century.
In parts of the Tibetan plateau, the amount of rain that falls by 2090 will likely be greater than has ever fallen in the past.
The Northeastern U.S., a region that recently marked the one-year anniversary of Hurricane Sandy, is recording more intense precipitation events. If emission trajectories continue to rise to the end of the century, the Northeastern U.S. is expected to experience extreme precipitation events every other year, instead of every 7-10 years.
The central Amazon rainforest will receive about 10 percent less rainfall throughout the year further increasing the risk of catastrophic fire.
Decreasing rainfall in Central Mexico coupled with projected temperature increases of five degrees Celsius annually by 2090 indicates patterns similar to a severe drought now underway in Chihuahua.
With roughly one-sixth of the Earth's soil-bound carbon locked in the Russian tundra, temperature increases upwards of ten degrees Celsius, or even higher, by the end of the century will begin to thaw Russia's vast carbon sinks releasing carbon dioxide that has been trapped for thousands of years.