Senators Reintroduce Landmark Wildlife Conservation Bill
The bipartisan legislation would invest billions in state, Tribal conservation efforts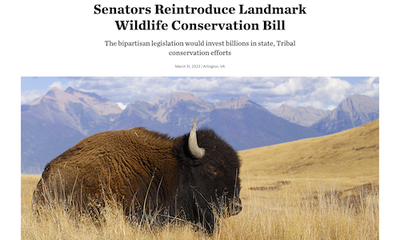 March 31, 2023 | Arlington, VA
Senators yesterday proposed the largest investment in U.S. wildlife conservation in decades, restarting an effort on legislation nearly passed in the last Congress.
The Recovering America's Wildlife Act (RAWA) would invest $1.397 billion per year in state and Tribal efforts to help wildlife at risk of extinction and help those already endangered recover. The bill is sponsored by Sens. Martin Heinrich, D-N.M., and Thom Tillis, R-N.C.
States and Tribes have a long track record of success in helping recover species before they require the far more costly "emergency room" intervention of the Endangered Species Act. From restoring wildlife habitat to fighting invasive species, this conservation work has multiple benefits for local communities, including job growth, cleaner water, and more outdoor recreation opportunities.