NRCS Grant Jump-starts Relay Intercropping Study
A recent announcement by USDA Secretary Tom Vilsack of grant money being given to Iowa Learning Farms will help illustrate how intercropping could benefit Iowa farmers.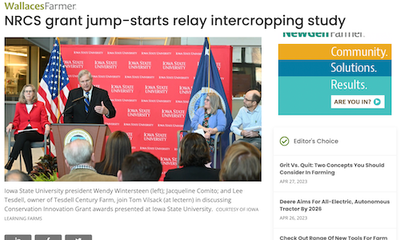 Among the Conservation Innovation Grants announced by USDA Secretary Tom Vilsack during a visit to Iowa State University in early April was funding for an Iowa Learning Farms (ILF) study of relay intercropping and its impacts on diversity, soil health, water quality, economics and social norms.
Noting the importance of land-grant universities such as ISU in moving science and research forward, Vilsack expressed his support for providing data to enable farming decisions that benefit the greater environment while empowering farmers — particularly those operating small- and medium-sized farms — to participate more fully in the significant positive economic trends that have brought new levels of profitability to the industry.