How the South Fights Fire with Fire, and What the West Can Learn
Most years Georgia intentionally burns around a million acres of forest. That's about 30 times the size of California's prescribed burns. Florida performs prescribed burns over twice that much land. That's according to data from the national interagency fire center and compiled by the non-profit Climate Central.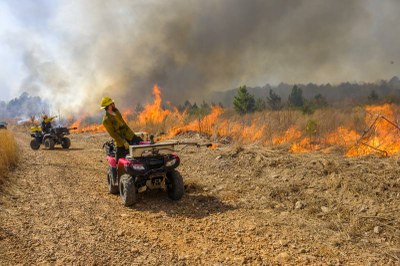 Workers watch the backfires they set with the flamethrowers mounted on their ATVs at Sprewell Bluff during a recent prescribed burn. The land was part of some 10,000 acres of public and private land maintained by fire in the area. Credit Grant Blankenship
It was a superb Spring day in the mountains of west Georgia, with bluebird skies and a light breeze through the longleaf pines, when a helicopter rained fire from the sky.
A machine on the side of the helicopter was dropping thousands of ping pong ball shaped incendiary devices as it criss-crossed a mix of mature, longleaf pine trees, some mature oaks and the grasses left from a timber company clearcut. When the balls hit the grass, fire bloomed in a deep orange that turned into rings of flame enclosing scorched vegetation.
As the flames crept, a pair of firefighters waited for just the right moment to zoom up a gravel road on ATVs fitted with flamethrowers. When they did, they set fire to grass at the edge of the road, robbing the main blaze of fuel and stopping it dead. It was all a part of Nathan Klaus' plan.