George Benz Aquatic Ecology Fellowship at Tennessee Aquarium
The Tennessee Aquarium is now taking applications for the George Benz Aquatic Ecology Fellowship.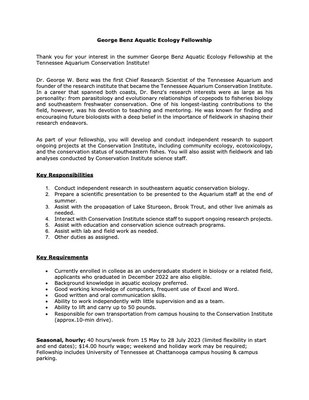 This Fellowship is an 11-week, work-based learning opportunity at the Tennessee Aquarium Conservation Institute in Chattanooga, Tennessee. Selected Fellows will be paid a $14.00 hourly wage along with campus housing and parking. Applicants must be currently enrolled in college as an undergraduate student in biology or a related field, applicants who graduated in December 2022 are also eligible. The Fellowship period is 15 May to 28 July 2023, and fellows must be available for the full 11 weeks.