Wheeler NWR Partners Meeting
The Appalachian LCC, partnered with the U.S. Fish & Wildlife Service of Wheeler National Wildlife Refuge, to provide an opportunity to introduce Alabama partners to the LCC and their recently developed decision-support products.
When
Mar 02, 2017
from

08:00 AM

to

04:30 PM

Where

Wheeler NWR (Visitors Center) - Decatur, AL

Contact Name
Gillian Bee
Contact Phone

970-342-6034

Attendees

Partners of Wheeler National Wildlife Refuge working within the AppLCC geography.



Add event to calendar

vCal




iCal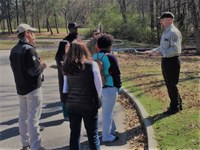 Dr. Jean Brennan (AppLCC Coordinator), Gillian Bee (AppLCC Landscape Conservation Fellow), and Matthew Cimitile (AppLCC Communications Coordinator) discussed the Who, What, Where, and Why of the AppLCC and shared products developed through funded research. Products included maps, data sets, networking platforms and decision-support tools. The meeting was also a venue to discuss Landscape Conservation Planning and how we all play a role in this approach to conservation. There also was opportunity for the AppLCC to receive feedback from partners on LCC products.
A total of 37 people, representing 12 organizations participated in this event. A list of participants can be found HERE.
Meeting presentations can be found HERE.
Detailed Agenda can be found and downloaded HERE.
Meeting Materials (case study materials, how-to documents etc.)
A Synthesis of App LCC funded research can be downloaded to familiarize ones self with all our research projects prior to the Workshop, as well as our Fact Sheet that provides a general overview of the mission, vision, and work of our LCC.
Detailed information on Wheeler National Wildlife Refuge can be found HERE
Please visit the Accommodation and/or Directions pages if needed.