Tennessee River Basin Network Newsletter May 2021
Network News | Funding & International Conference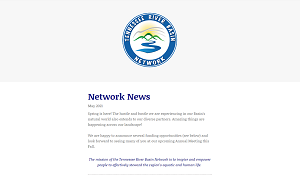 Network News
May 2021
Spring is here! The hustle and bustle we are experiencing in our Basin's natural world also extends to our diverse partners. Amazing things are happening across our landscape! 

We are happy to announce several funding opportunities (see below) and look forward to seeing many of you at our upcoming Annual Meeting this Fall.
The mission of the Tennessee River Basin Network is to inspire and empower people to effectively steward the region's aquatic and human life.