Tennessee River Basin Network-Network News: Issue 36 | December 2022
Your Network News | Thank You for 2022!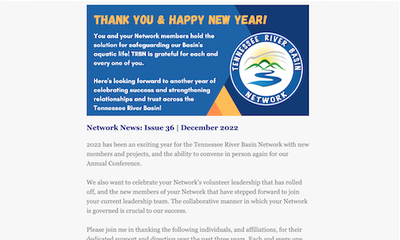 2022 has been an exciting year for the Tennessee River Basin Network with new members and projects, and the ability to convene in person again for our Annual Conference.

We also want to celebrate your Network's volunteer leadership that has rolled off, and the new members of your Network that have stepped forward to join your current leadership team. The collaborative manner in which your Network is governed is crucial to our success.