News from the South Atlantic Blueprint May 2021 Newsletter
Register for a Blueprint workshop, new beta Southeast Blueprint viewer, the role of user support, and more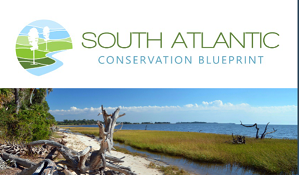 Original Source
Help improve the Blueprint: Sign up for a virtual workshop to review draft South Atlantic Blueprint 2021!
by Hilary Morris, User Support & Communications, South Atlantic & Southeast Blueprints
We've been working on an exciting update to the South Atlantic Blueprint that uses several new and improved indicators. We're hosting a series of 1.5-hour virtual workshops to review the draft in late May/early June. As a living spatial plan, the Blueprint is regularly updated based on new data and feedback from the conservation community. Your input helps ensure the Blueprint represents on-the-ground conditions and helps transparently document any issues. You'll also get to provide feedback on the approach to mapping corridors in this year's Blueprint and future versions! To register for a workshop, >>visit Hilary's blog...
SECAS evaluation report now available
by Mallory G. Martin, Coordinator, Southeast Conservation Adaptation Strategy
The final report from a comprehensive evaluation of the SECAS partnership is now available. SECAS Futures: Structuring Governance to Achieve Landscape-scale Conservation Outcomes is the product of a year-long effort to examine how SECAS is adding value to partner organizations and sustaining progress toward meeting its vision and goal. The SECAS Futures project was requested by the interim SECAS Steering Committee in 2019 to evaluate existing governance structures, operational processes, and to make recommendations that will sustain and enhance delivery of value from the partnership into the future. For a link to the report and a summary of key recommendations, >>check out Mallory's blog on the SECAS website...