Call for Nominations – 2021 Tennessee River Basin Celebration Awards
Celebrating successes of our conservation community is a foundational part of The Tennessee River Basin Network's (TRBN) mission. We are excited to announce that the TRBN's 2021 Call for Nominations for the Tennessee River Basin Celebration Awards is now open. Each year two awards are given to an individual or organization whose work directly moves the needle for freshwater conservation in the Basin. Awards include a plaque, $5,000 prize, and recognition during our annual celebration banquet. Any individual or organization working in the Tennessee River Basin (AL, GA, NC, VA, KY, TN, MS) can be nominated. Submission deadline: June 4th.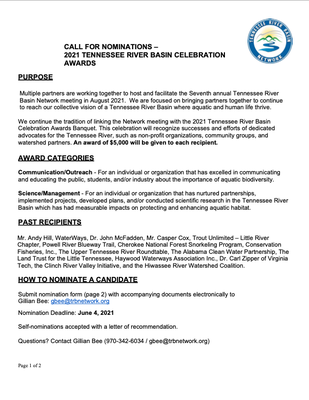 Multiple partners are working together to host and facilitate the Seventh annual Tennessee River Basin Network meeting in August 2021. We are focused on bringing partners together to continue to reach our collective vision of a Tennessee River Basin where aquatic and human life thrive.
We continue the tradition of linking the Network meeting with the 2021 Tennessee River Basin Celebration Awards Banquet. This celebration will recognize successes and efforts of dedicated advocates for the Tennessee River, such as non-profit organizations, community groups, and watershed partners. An award of $5,000 will be given to each recipient.