21st century conservation: A vision of collaboration across landscapes
Just one week after taking office, the Biden administration proposed an ambitious conservation agenda to stem the loss of biodiversity, enhance environmental equity and justice and curb the drivers of climate change. The agenda envisions engaging state, tribal, local and territorial officials, farmers and forest landowners, fishermen and others to conserve 30 percent of our lands and waters by 2030.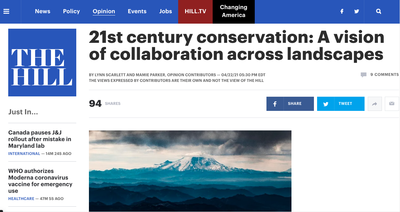 This "30x30" vision is bold, timely and innovative — bold for its ambition, timely amid devastating losses of biodiversity and the lands and waters on which all life depends, and innovative in putting people at the center of decision processes. We need large-scale conservation, shaped through collaboration that illuminates cultural perspectives and the economic needs of communities, and is informed by science. Saving nature is a human enterprise. We need the social infrastructure to support creative, community-based problem solving.