WLFW Northern bobwhite, Grasslands, and Savannas Framework - Partners' webinar 3/2/2022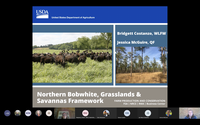 On March 2, 2022 Bridgett Costanzo of NRCS's Working Lands for Wildlife and Jessica McGuire of QF presented on the WLFW framework for NOBO, grasslands and savannas. Ms. Costanzo presented on the content of the new framework document, the priority areas and conservation practice goals set by the 24 NRCS state offices, and responses received from the needs assessment survey. Ms. McGuire presented on staffing and monitoring plans associated with launching this framework.
Webinar presenters included Bridgett Costanzo, NRCS WLFW regional coordinator and Jessica McGuire, QF. Slides are available here.