Working Lands for Wildlife Workspace
The Working Lands for Wildlife (WLFW) workspace is a password protected space. You must login or register to get access. The workspace was developed to foster collaboration between NRCS and its partners and support private landowners within the WLFW initiatives.

A host of effective partnerships are focused on conservation that achieves ecological goals while maintaining healthy economies in rural areas for working landscapes. The WLFW workspace enables interaction between NRCS's WLFW partners and others interested in conserving whole landscapes and empowering rural economies. The content here augments those WLFW resources available for on USDA's website, and allows any registered user (including landowners) access to a wide variety of information, online training materials, planning and decision-support tools, as well as access to experts, NRCS field staff, and landowners.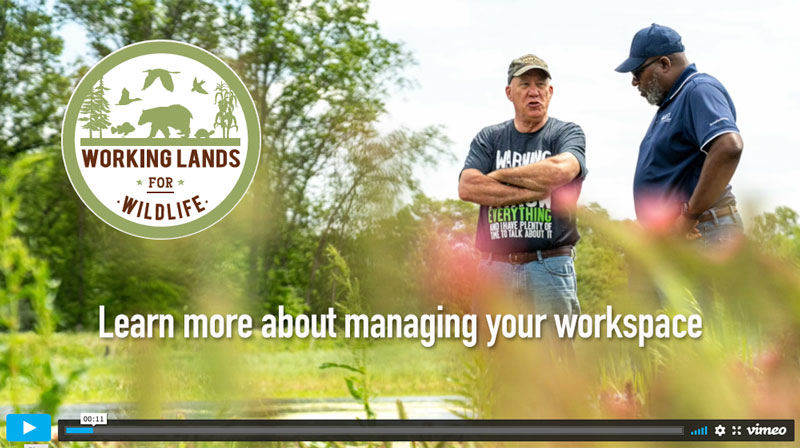 Things you can do in this workspace!
Once you are registered and logged in, you will be able to access and share any and all content, regardless of file type, software or size. This space is meant to be user-friendly. Through the workspace, we hope you can find other partners, share information and training materials, and enhance each other's capability to achieve large-scale change in working landscapes.
On the workspace you can...
View or post printed or media outreach materials
Find a technical expert in your area to provide assistance
View or post online training modules and webinars
Share photos and videos
Share news and announce dates of upcoming events
Alert other portal members to newly posted content
Store large and small datasets, databases, GIS files, etc.
Share updates on new or completed projects or actions
Manage logistics for upcoming meetings online (instead of trails of emails!)
Use the PRIVATE, password controlled workspaces to store, share or edit draft documents, raw data, sensitive materials, or any content that cannot or should not yet be posted publicly
For an annual maintenance fee, add interactive content in a separate workspace for your own WFLW initiative
See the NRCS WLFW website for specific information on: WLFW national and state-run target species partnerships; priority geographies for implementation; strategic plans published by USDA; how to participate in Farm Bill programs; and news and blogs about WLFW activities.
Latest WLFW News and Events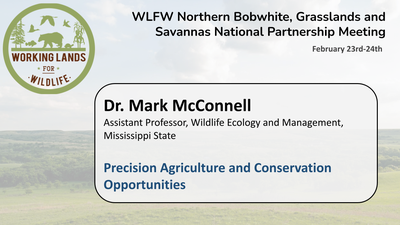 Dr. Mark McConnell presenting at the Working Lands for Wildlife (WLFW): Northern bobwhite, Grasslands and Savannas National Partnership Meeting on February 23, 2021. Mark is an Assistant Professor of Wildlife Ecology and Management at Mississippi State University.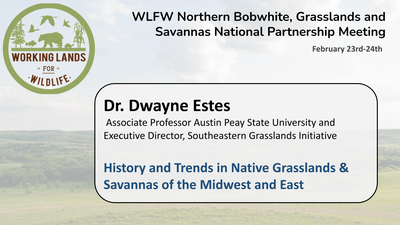 Dwayne Estes' opening talk for the WLFW Northern Bobwhite, Grasslands and Savannas National Partnership Meeting February 23-24th. Dr. Dwayne Estes is an Associate Professor at Austin Peay State University and is the Executive Director of the Southeastern Grasslands Initiative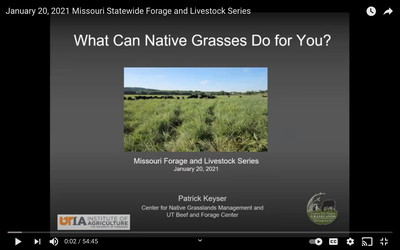 Pat Keyser (University of Tennessee) and Rick Rath (Missouri Department of Conservation) share about establishing and managing native grasses on pasture lands. Native grasses benefit not only livestock, but wildlife too. This webinar can help practitioners and landowners alike. Filmed January 20, 2021 - Missouri Forage and Livestock Series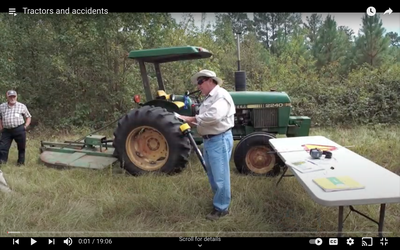 From seasonal discing to cutting fire breaks to planting or spraying, a tractor is a staple in bobwhite habitat management. Marion Barnes talks about how to keep this big piece of metal from injuring you.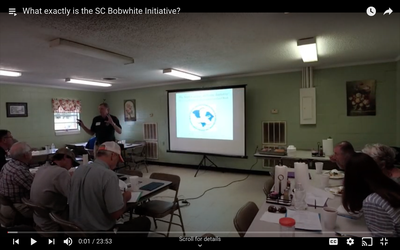 SCDNR biologist Breck Carmichael talks about the history of the SCBI, what it does and how it is working to bring back the whistle in South Carolina.