Working Lands for Wildlife (WLFW)
The WLFW webportal enables interaction between NRCS's WLFW partners and others interested in conserving whole landscapes and empowering rural economies.
The content here augments those WLFW resources available for on USDA's website, and allows users (including landowners) access to a wide variety of information, online training materials, planning and decision-support tools, as well as access to experts, NRCS field staff, and landowners.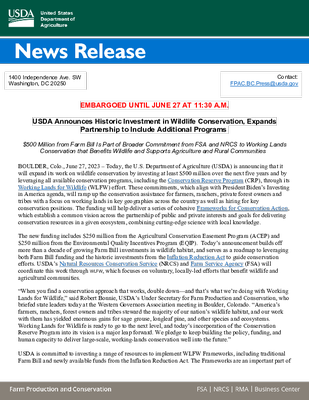 USDA Doubling Down on Growth of NRCS Working Lands For Wildlife!
USDA is expanding on existing working lands and wildlife conservation efforts here, while kicking off strategic improvements and adding more resources!

WLFW Conservation Tools
NEW TOOL AVAILABLE!
LITERATURE GATEWAY
A Systematic Map of Bird-vegetation Relationships in Eastern and Boreal Forests
This tool allows users to search for literature on bird species-vegetation relationships in eastern and boreal forests of North America.
See the NRCS WLFW website for specific information on: WLFW national and state-run target species partnerships; priority geographies for implementation; strategic plans published by USDA; how to participate in Farm Bill programs; and news and blogs about WLFW activities.