National Association of State Foresters Weekly Newsletter May 22, 2020
BeOutdoorSafe launches, agencies continue to grapple with COVID-19...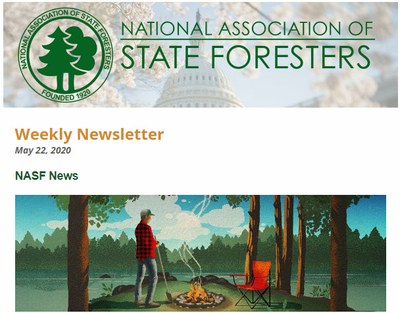 As wildfire risk increases, new PSAs urge Americans to recreate safely outdoors [NASF Newsroom]
New PSAs from the crew behind Smokey Bear encourage families and individuals to keep safety in mind while enjoying public lands and their own backyards. With a visit to BeOutdoorSafe.org, folks can find resources for responsible recreation, like the following tips:
Before taking a trip outside

: check for park and trail closures, pack soap or hand sanitizer, and confirm that the destination park or trail offers enough space for social distancing.

To help prevent wildfires while recreating

: follow fire restrictions, properly extinguish campfires, and avoid parking on tall, dry grass – even if the parking lot is full.
Have questions about our newest campaign? Contact NASF Communications Director Whitney Forman-Cook.
NASF welcomes summer intern from Missouri [NASF Blog]
Tyler Hoguet is looking forward to diving into NASF work as the James Hubbard Intern for Policy and Communications.
Born and raised in the St. Louis area, Tyler developed a passion for the outdoors at a young age spending his weekends in the forests and streams of Illinois and Missouri. After graduation, Tyler hopes to turn his love for the outdoors into a lifelong career in natural resource and environmental policy.