Amazing Creatures in Longleaf Pine Flatwoods and Sandhills
A wide diversity of remarkable animals calls longleaf pine flatwoods and sandhills habitats home.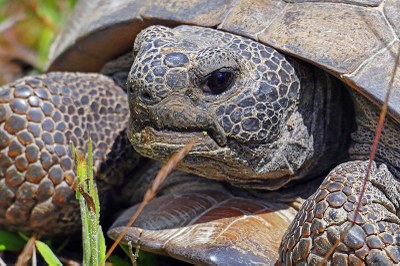 Close-up of Gopher Tortoise. Photo by Renee Bodine
Amazing Creatures, Dirk Stevenson
USDA's Natural Resources Conservation Service (NRCS) invites landowners to discover species special to naturalist Dirk Stevenson, who has spent much of his life in the Coastal Plain of the southeastern United States wading swamps and exploring pine landscapes in his field studies of imperiled and declining amphibians, reptiles and insects. Through a website post, Stevenson looks at various creatures including the gopher tortoise, the gopher frog, the eastern indigo snake, the frosted flatwoods salamander, dragonflies and the southeastern pocket gopher.