Virginia Tech Researchers Receive NSF Grant to Study Parental Care in Eastern Hellbender Salamanders
William Hopkins, professor of wildlife in the College of Natural Resources and Environment, is the principal investigator on a new grant from the National Science Foundation (NSF) for $738,817 to study parental care in the eastern hellbender salamander.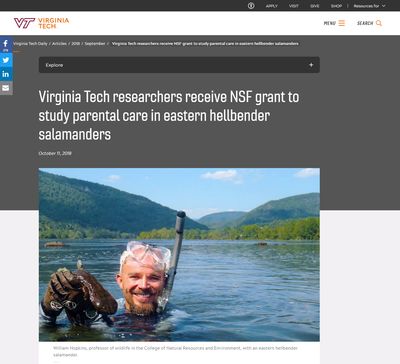 Although eastern hellbender salamanders are known by many unflattering nicknames — mud puppy, snot otter, grampus, and Allegheny alligator —  about 70 percent of adult male hellbenders should more accurately be known as doting fathers.
Unlike most wildlife species, male hellbenders provide exclusive care for their young for an extended period of seven months.