5-Year Work Plan
This report represents the result of a 3-day Workshop of the Cooperative's Steering Committee and key Partners to produce a collaborative, integrated, and science-driven 5-Year Work Plan. It will serve as our guide in moving the Appalachian Landscape Conservation Cooperative forward to advance the efforts of the broader conservation community in addressing large-scale environmental and climate impacts.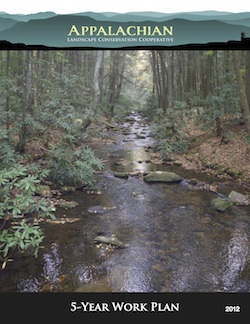 Download the 5-Year Work Plan.
The Work Plan helps direct the energies and focus of the Appalachian LCC to achieve the goals and objectives identified by the assembled conservation leaders. The Work Plan reflects the Cooperative's conservation priorities, identifies key conservation targets to measure achievement, and presents opportunities for collaborative and coordinated conservation efforts and planning. It will be informed by and reinforce the focus of delivering science to the Cooperative members, partners, and stakeholders.
Four Goals are identified in the Work Plan: Goal 1 focuses on assembling needed data sets and sorting out data sharing issues; Goal 2 builds upon these underlying data to generate a higher-order product such as cross-cutting threats analyses, creation of decision-support tools, generating landscape-level models for conservation planning, and facilitating actions and investments; Goal 3 focuses on the need to communicate the conservation needs and societal benefits delivered by the conservation community, as well as engage key partners, sectors, industries, and broader society to help achieve a more integrated and sustainable landscape; and Goal 4 focuses on the strategic role of the Steering Committee in facilitating the conservation planning and coordinated conservation delivery across the Appalachian region.
The Plan is divided into 5 Sections found below:
Includes the Preface, Table of Contents, Acknowledgements, and Executive Summary
Provides an overview of the Appalachian LCC, the organization's mission and vision, guiding principles, business processes, and operational measures.
Details the four major goals of the Appalachian LCC over the next five years. Includes the specific objectives within each goal and tasks deemed necessary to achieve these objectives.
This section provides staff recommendations on tasks requiring more staffing or funding support, or in some cases modification, to achieve.
Glossary of Terms used throughout the Work Plan.