Southeast Climate Adaptation Science Center Newsletter May 2020
Welcome to the Southeast Climate Adaptation Science Center's May 2020 newsletter.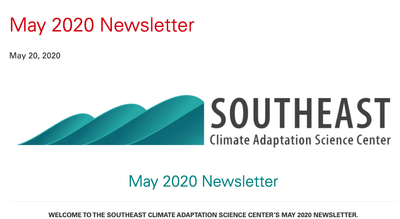 Southeast Climate Adaptation Science Center News
---
For news and upcoming events related to the Southeast Climate Adaptation Science Center,
subscribe to our monthly newsletter.
The second webinar in the SE CASC & South Atlantic Spring/Summer Science Series features SE CASC Research Ecologist, Mitch Eaton discussing Building Adaptive Capacity in a Coastal Region Experiencing Global Change, May 21 at 10 am ET. Learn more and register.
SE CASC Researcher, Katie Warnell, will present on Piloting Ecosystem Accounts for the Southeastern U.S. webinar on May 21 at 2pm ET, describing work from SE CASC project, Ecosystem Services Mapping Datasets. Register here to learn about opportunities to extend their work.
Next up in the S6 series will be a presentation by SE CASC Researcher, Dwayne Estes (Southeastern Grasslands Initiative) and Rua Mordecai (South Atlantic Conservation Blueprint), Clarifying Science Needs for Southeastern Grasslands: The Piedmont, Coastal Plain, and Beyond on June 18 at 10am ET. Please register here to join us.
2016-2017 Global Change Fellow, Larry Long and SE CASC PI, Steve Frank recently published, "Risk of bird predation and defoliating insect abundance are greater in urban forest fragments than street trees," supported by the SE CASC project Consequences of Urbanization and Climate Change on Human and Ecosystem Health. Learn more.
---