National Association of State Foresters Weekly Newsletter March 26 2021
2021 Smokey PSAs released, MS and WV announce new Forest Action Plans...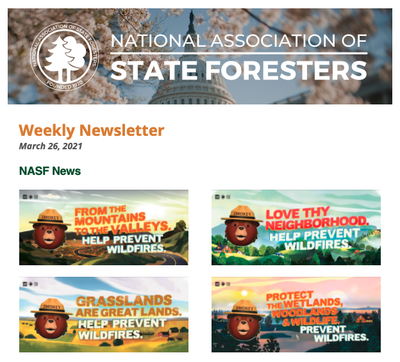 March 26, 2021
NASF News
New Smokey Bear PSAs urge responsibility as people spend more time outside [NASF Newsroom]

"This summer in particular, given all the limitations the pandemic has put on our emergency responders, please do your part to help ensure our nation's most treasured landscapes—and the people and wildlife who call them home—are safe from wildfire."
In Your State
Celebrate Missouri trees during Arbor Days [Sun Times News]

(Press release) The Missouri Department of Conservation encourages Missourians to celebrate the value of Missouri trees and forests during Arbor Days in April by planting native trees and practicing proper tree care.

More from Missouri:

Mild March tempting Missouri morel mushroom hunters [KSN]Iowa DNR to conduct planned fires on state-managed areas [KWWL]

(Press release) Ground nesting birds, such as pheasants and mallards can benefit from the fires. Prescribed burns typically start in the morning and finish in the late afternoon or the early evening between late March and early May.