Southeast Climate Adaptation Science Center Newsletter June, 2020
Welcome to the Southeast CASC June 2020 Newsletter.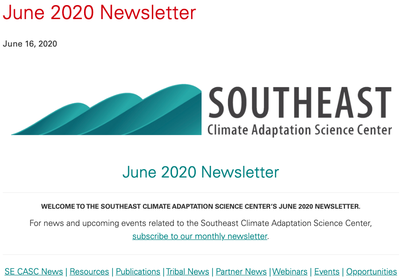 We at the Southeast Climate Adaptation Science Center stand firmly against the systemic structural racism that has pervaded U.S. institutions and society for centuries, causing injustice and suffering of Black, Indigenous, and other communities of color in our country. We recognize that impacts from climate change fall disproportionately on marginalized communities, and that including a multiplicity of people and ideas improves our work; this drives us to recommit to cultivating a diverse community of scientists and partners and to use those perspectives to develop long-term solutions to environmental and societal challenges, such as climate adaptation. We invite you to join us.
2018-19 Global Change Fellow and Graduate Student Intern, Deja Perkins, co-organized #BlackBirdersWeek social media activities, which highlighted activities of Black birders and naturalists and challenges related to racism in the field. Learn more.
The third webinar in our SE CASC & South Atlantic Spring/ Summer Science Series, Clarifying Science Needs for Southeastern Grasslands: The Piedmont, Coastal Plain, and Beyond, will be presented by Dwayne Estes (Southeastern Grasslands Initiative), Jennifer Cartwright (USGS), and Rua Mordecai (US FWS), on Thursday, June 18, 10 am ET. Learn more and register.
If you missed last month's SE CASC & South Atlantic Spring/ Summer Science Series webinar presented by USGS Research Ecologist, Mitch Eaton titled, Building Adaptive Capacity in a Coastal Region Experiencing Global Change, view a recording of the presentation here.